SARAFA is a jeweller's lane in probably old Indore where at the fall of their shutters it acquires a unique look, many carts arrive, stalls open, and opens an unimaginable world of celebration of food.
Sarafa is an institution in itself, every town, and every city ought to have a SARAFA like Indore. People in Indore say if you visit SARAFA and
Chappan Dukan
, then you know Indore well. One cannot understand this without visiting SARAFA. The entire city comes live at these places after nine, specially SARAFA.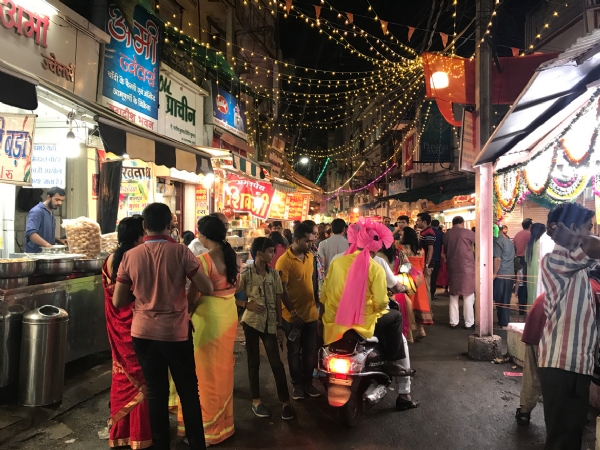 People from all the strata of society come together to make it a mini Indore. It was Laxmi Pooja day when we had our first ever excursion to SARAFA. It was one of its kind experience, the lanes were lit up using light sequences, but they were more enlivened with the faces radiating excitement. People along with their guests in the festive and beaming enthusiasm made our day. And the variety of food had no bounds, as a Punekar, one finds it fancier than one could ever imagine. The imagination is sure to fall short of reality. The usual khichadi appeared in such an unusual but tantalizing avatar, a Punekar could never imagine. The
satvik
khichadi
was presented with unimaginable taste and appearance.
A simple
dahiwada
came with a flying saucer and a skilled hand spread four different spices at one go.
Yam (Geradu) came with a mouthwatering twist of spices that can make one yearn more than ever. Bhutta takes a tasty turn and comes in the form of knees,
jeerawan
sprinkled,decorated with fresh
dhaniya
which is
satvik
as well as filling. ( I knew only simple forms.) The other chat forms were equally tempting, especially the curd used was fresh and had acquired the right balance of sweetness.
Eating hot and fresh
jalebi
along with incomparable rabadi makes one happily fall short of words. Hot Malpua with cool rabadi too offers an experience our words can hardly describe. Kalakand fills the stomach with joy and make a strong promise to oneself for one more compelling visit.
As the time passes by people keep getting added instead of numbers falling. The narrow lane gets even more crowded but gets illuminated with more fluorescent faces and shining ghagras, designer cholis and delicate but carefully crafted dupattas. Shimmering silk sarees with golden and silver motifs add to the glamour of the SARAFA.
The young crowd, family groups, and the crowd of seniors all join this celebration of the food festival of SARAFA every day . Every cart owner or stall owner serves all with an assuring smile and deft hand and of course tempting food. It has the ability to satiate every taste bud. At night the crowd swells, friends meet, chats become intense, and moving feet settle for some time, and move again in a different direction. The celebration goes on till probable dawn with a promise to start again at the fall of shutters.
Every city should have a SARAFA where one can be with loved ones fearlessly, where there will never be an end to the celebration of food and one can invite people and say let's meet at SARAFA, have you been to our SARAFA?