"The global Halal food industry is expected to hit almost $4 trillion by 2028 as it expands at an 11.25% CAGR (Compound Annual Growth Rate) over the next eight years. In 2019 alone, Halal consumers spent a staggering US $ 1.17 trillioon Halal food – making it the second largest sector after Islamic finance".
"The Halal industry is much more than just food on your plate. It's a way of life that encompasses the entire ecosystem, from food production to consumerism. The Halal industry is a booming global market. The global Islamic economy comprises seven sectors — Islamic finance, Halal food, modest fashion, media and recreation, Muslim-friendly travel, pharmaceutical, and cosmetics.".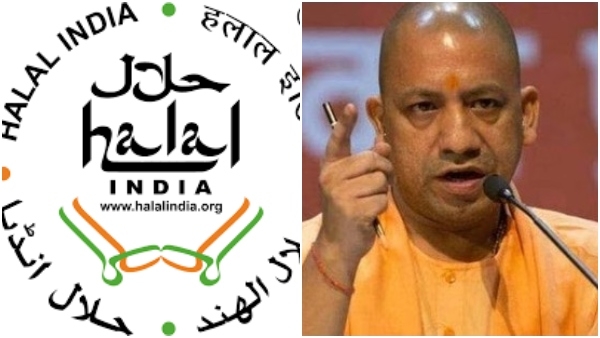 These are two observations made by Islamic Services for America (ISA) about Halal industry. One can find them in a paper, published on February 23, 2023. This paper is still available to the website of ISA.
The debate over Halal is not restricted to India alone but it is gradually gaining momentum worldwide. Few years back, some major steps were taken in France, which has the highest Muslim population in Europe. The main objection in France was that money raised by Halal industry is being used for extremist activities.
In UP….

In India, the Halal issue is again in debate thanks to the fresh decision by the Uttar Pradesh government, banning production, storage, distribution and sale of halal-certified products in the state with immediate effect. The government has taken a serious note of products such as dairy items, sugar, bakery products, peppermint oil, beverages, edible oils, some medicines, medical devices and cosmetic products being labelled with halal certificates. However, export products have been kept out of the purview of this ban.
The ban is a sequel to an FIR being registered at Hazratganj police station in Lucknow against four organizations, production companies, their owners and managers as well as other unidentified people for unnecessarily extorting money in the name of halal certification and promoting enmity in the name of religion and also funding different anti-national, separatist and terror organizations. Those accused in the FIR include Halal India Pvt Ltd of Chennai, Jamiat Ulama Hind Halal Trust of Delhi, Halal Counselling of India and Jamiat Ulama of Mumbai, Maharashtra as well as some unidentified people.
Also Read: NB Explains | Why did UP govt ban 'Halal-certified' products with immediate effect?
Halal certification is yet another move or strategy for Muslim expansionism. The idea of halal is originally restricted to the followers of Islam but it has gradually engulfed non-Muslims as with unprecedented speed in the past few decades. It has given birth to a new trend - crypto-Muslim, on the line of crypto-Christianity. Halal is nothing but the imposition of Islam with a new mask.
In India, halal certification was first introduced in 1974 for slaughtered meat and was applied only to meat products till 1993. Till a few years back, halal certification was confined to meat products only. But today all types of products like oil, sugar, toothpaste and spices are being issued halal certificates. Few months back, a railway passenger had strongly objected for giving him halal certified tea bag during his journey. This became viral on social media. The incident shows how halal is spreading its wings with rapid pace and has emerged as a parallel system, creating confusion among the common people, regarding quality and government authority.
Halal certification has no legal standing

An impression is being created that halal certification is government approved while reality is - Food Safety and Standards Authority of India (FSSAI) is the sole body to issue certificates for edible products. Except the FSSAI, no agency or body can issue certificates to products. Halal certificate is currently issued to all kinds of products like toothpastes, sugar and oil. A brief round in the market reveals that products of renowned companies are carrying halal certificates. This certificate is seen even on sweets and namkeen, food products, cold drinks, juices, ice creams, cosmetics, food grains and medical products.
Considering the seriousness of the situation, a petition has been filed in the Supreme Court (April 2022), seeking a complete ban on halal products and halal certification. The petitioner claims that fundamental rights of 85% citizens were being infringed upon for the sake of a mere 15% population which used these products. The petitioner had sought withdrawal of all halal-certified products from the market by the multinational companies.
What is Halal?
The word 'halal' comes from Arabic, which means "allowed" or "permissible" according to Islamic law. Therefore, every Muslim is expected to ensure that whatever he/she consumes, comes from a halal source — not just the ingredients but also the entire production and handling process from start to finish. The definition given by Jabatan Kemajuan Islam Malaysia (JAKIM) in Trade Description Order 2011 covers products and services encompassing all the business operations like packaging, marketing, manufacturing, logistics, supply, maintaining premises, slaughtering, and so on (JAKIM, 2015).
2023 ISA paper attributes increase in the demand for halal productions mainly because of rise in Muslim population. It says Muslim population was almost 28.7 % of the global population but halal certified products were demanded by non-Muslims also.
Some main featured need to be considered as they are self-explanatory:
A)
Halal is a method of slaughter and packaging in tune with Islamic practices. Halal can be performed only by a Muslim man. Thus, non-Muslims are automatically denied employment at a Halal firm.
B)
The Department of Halal Certification of the European Union says, "The name of Allah must be invoked (mentioned) at the time of slaughtering by saying: Bismillah Allahu Akbar. (In the Name of Allah; Allah is the Greatest.) If at the time of slaughtering the name of anyone else other than Allah is invoked (i.e., animal sacrificed for him/her), then the meat becomes Haram "unlawful.""
C) The EU department of Halal certification specifies the exact Islamic method of slaughtering. It says that the slaughtering of the animal must be done in just one stroke without lifting the knife, using a sharp knife. It says that the windpipe (throat), food-tract (esophagus) and the two jugular veins must be cut in a single stroke. Care must be taken that the head is not severed and the spinal cord is not cut. The rules also say that meat slaughtered by a machine can't be Halal, it must be slaughtered by a Muslim person.
Also Read: Ban of Halal certification in UP? Yogi govt mulls ban on illegal Halal goods after case lodged in Lucknow
D)
Halal process is also applicable to packaging and shipping. Throughout this process, only Muslims can be employed. The name of Allah has to be invoked everywhere.
E)
Halal certification is also granted for vegetarian products. These products are also seen with Halal certification. Processed food is considered Halal if it is not contaminated by ingredients that are considered 'najis' as per Sharia Law. Equipment used for its production should not be contaminated with 'najis' either.
F)
'Najis', as per Sharia law, are substances that make a product ritually unclean. Substances such as alcohol, dogs, swine, and milk of animals Muslims are not permitted to drink and other such things are considered 'Najis'.
G)
In the Jhatka method of slaughter, the animal is killed instantaneously without the animal suffering like it does in the Halal process. In Jhatka, the head of the animal is immediately severed and therefore, it is not bled to death slowly.
H)
Another key difference between Halal and Jhatka is that Jhatka has no religious process and therefore, can be consumed regardless of religious affiliations. The underlying idea of Jhatka is to kill the animal with minimum torture to it.
H)
Halal is discriminatory because non-Muslims are not employed at any stage. It forces non-Muslims to consume meat, which is processed after invoking the name of Allah. This is against fundamental religious rights.
I)
Sikhs specifically do not consume Halal meat as a part of their religious beliefs. Sikhs call the Halal process "kuttha", which means meat obtained after killing the animal in a slow, painful process.
J)
There is no prescribed process in Hindu religion. Pashubali is mainly for deity and animals are slaughtered by ensuring that it is hurt minimum. Halal is a barbaric method of killing.
K)
Hindus do not have the concept of haram or kafir.
L)
Indian meat exporters need halal certification as their main market is Muslim countries.
Illegal and inhuman
An organization like Jamiat Ulema -e-Hind (JUH), one of the oldest halal certifying trusts in India, is constantly in the news for their alleged legal support to the accused in terror-related cases. Additionally, halal method is also violating The Prevention of Cruelty to Animals Act, 1960. It was enacted to prevent the infliction of unnecessary pain or suffering on animals and to amend the laws relating to the prevention of cruelty to animals. The act defines "animal" as 'any living creature other than a human being'. Halal method, thus, is not illegal but inhuman also. Halal not merely neglects sentiments of non-Muslims but hurt them.
However, political parties and leftists do not pay attention to illegality and inhuman/immoral halal methods. A big controversy erupted when the Bommai led government tried to take some steps in this direction. Now the same is the reaction to the UP government decision, which is viewed from Muslim angle instead of legality and humanity.
ISA paper mentions that the halal industry is a booming global market. The global Islamic economy comprises seven sectors — Islamic finance, Halal food, modest fashion, media and recreation, Muslim-friendly travel, pharmaceutical, and cosmetics. Halal certification process includes a rigorous review of ingredients and a regular inspection of production facilities to ensure that all products meet the highest standards of Halal compliance.
Halal certification is rapidly growing globally. Halal sponsors are using modern technology like artificial intelligence and a special scheme – `from farm to fork' by using QR code system. Online shopping has made this system more `user friendly' wherein religious angle is never addressed. Special halal food related apps are launched to gain the popularity, which is emerging as a success story.
ISA says in its paper, "The expansion of the global Islamic economy provides jobs for millions of people worldwide who directly or indirectly work in the Halal industry. With more than 2 billion Muslims living on Earth today, this trend shows no sign of slowing down— and we can all be part of it!".
Halal is not merely a religious and economic issue. It has a lot of other angles, which need to be addressed on war footing globally.