New Delhi, Nov 20: In a huge boost to Indian defence sector, the United States has provided all the necessary clearances for the India-based production of the engines that will power the indigenously built Tejas LCA Mk2 and Advanced Medium Combat Aircraft (AMCA), which is touted to be India's first fifth-generation multirole fighter aircraft.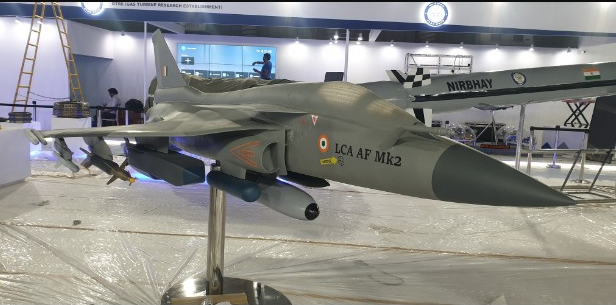 This was informed by Defence Research and Development Organisation (DRDO) chairman Dr Samir V Kamat on Saturday.The engines will be jointly produced by Hindustan Aeronautics Limited (HAL) and American multinational conglomerate General Electric (GE), he informed.
"The engines of LCA Mark 2 and the first two squadrons of the indigenous Advanced Medium Combat Aircraft would be produced within the country together by American GE and Hindustan Aeronautics Limited as all the clearances have been received from the US," Kamat was quoted as saying by news agency ANI.
In June this year, GE signed a memorandum of understanding (MoU) for the co-production of its F414 engines with HAL in India for use in Tejas Mk2. The Tejas Mk2 has been designed as the upgraded variant of the fourth generation Tejas Mk1, which is already in service with the Indian Air Force (IAF), and Tejas Mk1A, which is pending delivery. Squadrons of Tejas Mk2 are slated to replace the IAF's ageing fleet of Mirage 2000, Jaguar and MiG-29 combat aircraft.
The DRDO would be developing the aircraft with a GE-414 engine, which is the advanced version of the GE-404s that power the existing LCAs in service and the 83 LCA Mark 1As which would start getting inducted into IAF in the next couple of years.
At present, 30 LCAs are in service with the IAF and two are being used by the HAL to develop the Mark 1As.
The AMCA aircraft development proposal is also with the government and is expected to be approved in the near future but with a lot of Indigenisation inputs from the government.
Features of Tejas Mk2
1. Tejas Mk2 will be powered by the GE F414 engine, which is the more powerful variant of the GE404 engine of Tejas Mk1 and Tejas Mk1A.
2. GE414 will grant Tejas Mk2 an operational range which is reportedly going to double to that of Tejas Mk1. The 98-kilonewton thrust class will also enable the Tejas Mk2 to have a much more enhanced payload capacity.
3. The payload capacity of Tejas Mk2 will be four tonnes as against the three tonnes of the existing version.
4. Tejas Mk2 will be able to carry standoff missiles like BrahMos, Scalp, Crystal Maze, Spice-2000, and Spice.
5. Tejas Mk2 will also carry a major upgrade in terms of radar system. It will feature an indigenously developed Active Electronically Scanned Array (AESA) radar, which is designed to have a low probability of interception.