Islamabad, Mar 18: A vehicle in the convoy of former Pakistan PM Imran Khan met with an accident as he headed to Islamabad in connection with the hearing into the Toshakhana case, news agency ANI reported quoting Pak media.
Imran Khan had departed from his residence in Zaman Park in Lahore along with a convoy of his party workers, the Dawn newspaper reported as stringent security measures were put in place.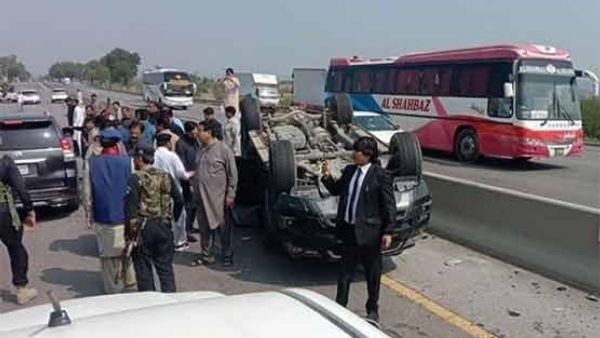 Police has also been deployed in the court and the surrounding areas to provide security to Imran Khan who survived an assassination attempt in November last year. In Islamabad, Section 144 has been imposed which prohibits private companies, security guards, or individuals from carrying weapons.
The former premier has avoided arrest so far despite an effort by the Pakistan government. Ahead of the hearing, Imran Khan tweeted, "It is now clear that, despite my having gotten bail in all my cases, the PDM govt intends to arrest me. Despite knowing their malafide intentions, I am proceeding to Islamabad & the court bec I believe in rule of law. But ill intent of this cabal of crooks shd be clear to all".
"It is also obvious now that the entire siege of Lahore was not about ensuring I appear before the court in a case but was intended to take me away to prison so that I am unable to lead our election campaign," he said in another tweet.
In the last hearing, Imran Khan sought suspension of non-bailable arrested warrants issued for him which was rejected by the court.
Imran Khan has been accused of buying gifts he had received when he was prime minister at a discounted price from the state depository called Toshakhana and selling them for profit.