Ever since Virat Kohli and Gautam Gambhir were involved in a heated argument after RCB beat LSG in a low-scoring IPL match, several controversies have erupted. In yet another such instance, Congress supporters tried to use this altercation of Delhi boys to get some votes for the Congress party during the Karnataka Assembly elections.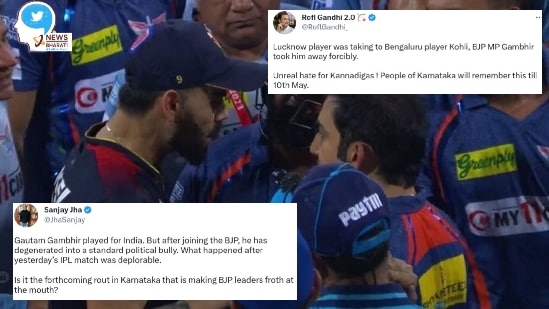 It should be noted that Gautam Gambhir is also a BJP MP. Using this opportunity, the Congress supporters targeted Gautam Gambhir for going against Royal Challengers Banglore batsman Virat Kohli and requested that Karnataka voters should teach Gambhir a lesson by not voting for BJP in the upcoming elections.
"Gautam Gambhir played for India. But after joining the BJP, he has degenerated into a standard political bully. What happened after yesterday's IPL match was deplorable. Is it the forthcoming rout in Karnataka that is making BJP leaders froth at the mouth?" said the former national spokesperson of Congress, Sanjay Jha.
Virat Kohli and Gautam Gambhir were involved in a ugly war of words after Royal Challengers Bangalore defeated Lucknow Super Giants by 18 runs at the Ekana Cricket Stadium on Monday.
Virat Kohli was fired up for RCB in a low-scoring match against LSG. He had scored 31 in a strong opening partnership with Faf du Plessis and then took a couple of sharp catches as his side defended a modest 126.
Shortly after the match, Virat Kohli and LSG mentor Gautam Gambhir were seen in the middle of a heated altercation. The two had to be separated by Amit Mishra, RCB captain Faf du Plessis and LSG assistant coach Vijay Dahiya.