New Delhi, May 25: Opposing the Gujarat-based co-operative society procuring milk, Amul, in the state, Tamil Nadu chief minister M K Stalin has wrote a letter to Cooperation Minister Amit Shah, asking him to stop Amul from procuring milk in Tamil Nadu's milk shed area.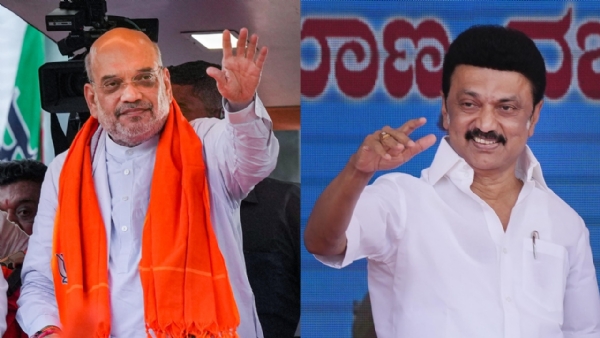 The CM wrote that like other states with strong dairy cooperatives, Tamil Nadu has Aavin Co-operative, under which 9,673 milk producer cooperatives are functioning in rural areas. According to CM Stalin, recently the Kaira District Cooperative Milk Producers' Union (Amul) has utilised their multi-state cooperative licence to install chilling centres and a processing plant in Krishnagiri district and has planned to procure milk in several districts.
According to the Tamil Nadu CM, it has been a norm in India to let cooperatives thrive without infringing on each other's milk-shed area, and now Amul is violating that norm by starting milk procurement in the state. "Such cross-procurement goes against the spirit of 'Operation White Flood' and will exacerbate problems for the consumers given the prevailing milk shortage scenario in the country. This act of AMUL infringes on Aavin's milk shed area which has been nurtured in true cooperative spirit over decades," he wrote.
MK Stalin claims that this move by AMUL will create unhealthy competition between cooperatives engaged in procuring and marketing milk and milk products. "Regional cooperatives have been the bedrock of dairy development in the states and they are better placed to engage and nurture producers and to cushion consumers from arbitrary price hikes," he added.
Therefore, he requested the urgent intervention of Minister Amit Shah to "direct Amul to desist from milk procurement from the milk shed area of Aavin in Tamil Nadu with immediate effect."
It is notable that in recent weeks, Gujarat Cooperative Milk Marketing Federation Limited (GCMMF), which owns the Amul brand, has released ads in Tamil Nadu inviting farmers to supply milk in northern districts of the state, including Dharmapuri, Vellore, Krishnagiri, Tiruvannmalai, Ranipet and Kancheepuram districts. Amul already has a wide presence in the state through distributors to market its dairy products.
Reportedly, this is the second attempt by Amul to procure milk in the state after a failed attempt five years ago. Reports also mention that GCMMF agents have met milk producers in the state and have promised them ₹1 or ₹2 more than the price being paid by Aavin. The cooperative society has also promised to release payment within a day or two, and has assured monthly or quarterly incentives.
It is notable that as per extant laws regarding cooperative societies, GCMMF can't set up a cooperative society in Tamil Nadu, but it can procure milk from dairy farmers just like private companies do. In Tamil Nadu, only the state govt's agency Aavin can set up cooperative societies in the sector. Therefore, what Amul is doing is permitted as per existing laws in the state.
While CM Stalin is saying Amul procuring milk will create unhealthy competition between cooperatives, Aavin officials say they don't think there will be a threat to them. "Our farmers are exclusively associated with Aavin, and we do not perceive any threat due to the entry of Amul," said G Rajendran, general secretary of the Tamil Nadu milk producers' welfare association. He also added that "competition in the milk market may ensure better price for farmers."
Aavin officials also expressed confidence in their strong network of milk suppliers. The cooperative has launched several schemes to help the dairy farmers, which include the purchase of two lakh milch cows, 50% subsidy premium for cattle insurance, and an enhanced supply of cattle feed and fodder.
MK Stalin's opposition to Amul procuring milk in the state alleging threat to Aavin can repeat the Amul vs Nandini debate recently seen in Karnataka before the assembly elections. However, in Karnataka, the opposition was Amul's proposal to sell its milk and curd in the state. The then opposition parties Congress and JD(S) had alleged that the BJP government was planning to merge Nandini, the Karnataka-based dairy cooperative, with Amul.
.
.