New Delhi, May 3: Playing the card of being a woman and Muslim in India, the so-called journalist Rana Ayyub has called herself a speaker for the "oppressed, the marginalized, the persecuted" at a UNESCO-sponsored press freedom event.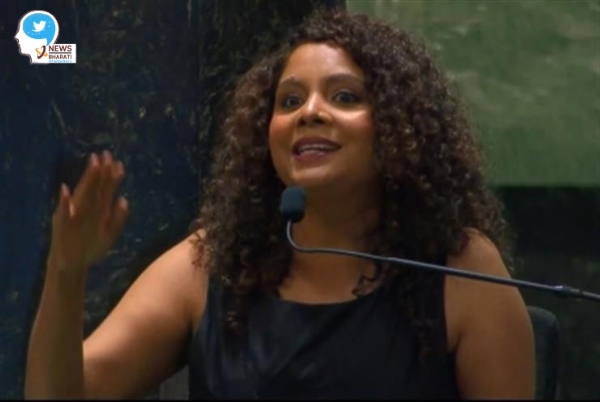 Rana Ayyub, who works for The Washington Post, said while seated at the General Assembly dais, "I have normally seen world leaders talk about democratic values right here at this podium (and) some of us journalists watching it on TV look at them and like, 'Hey, you are anything but democratic."
Stressing her Muslim identity she called herself, "a critic of the government, who is a woman and a Muslim", she said, "I think it has never been a more difficult time to be a journalist who is talking about the oppressed, the marginalized, the persecuted."
Further, she claimed that there has been "sustained attacks on 200 million Muslims who are minorities in India".
"I come from India, the land of democracy which prides itself on about its democratic values. I love my country more than I love any other entity in the world, but which is why it is more important for me. Especially when, you know, when we talk about attacks in the press, we normally never look at India as much because India is seen as this place of democracy, you know, syncretic values and culture and pluralism".
"But what the world does not see is that for the first time in its history, there is a sustained attack on the 200,000,000 Muslim minorities on the lower caste in India systematically, even as the country gears up to hold the G20 summit in India, where world leaders are coming to India and talking about the virtues of democracy," she claimed.
She even called herself persecuted! "So which is precisely the reason why many journalists like us, who are being persecuted in our home country, need to speak loud and clear. Because the world does not wish to hear certain stories. The world does not wish to hear unpopular stories, which is why we will speak loud and clear," she said.
Further, she also justified gangster-murderer Atiq Ahmed who was killed live on TV.
Rana Ayyub misleads, was invited for UNESCO event and not to UNGA
It should be noted that Rana Ayyub was invited to speak at the United Nations General Assembly Hall but the event was not organized by the United Nations. Ayyub was one of the few speakers, who was invited by the United Nations Educational, Scientific and Cultural Organization (UNESCO), to celebrate the 30th anniversary of World Press Freedom Day.
As per the program itinerary, the 'journalist' was part of a panel of 4 individuals including Sergiy Tomilenko (the President of the National Union of Journalists of Ukraine), Liliane Landor (the Director of the BBC World Service) and Jose Zamora (the Chief communications and impact officer at Exile).
Rana Ayyub accused in money laundering case
It is pertinent to mention that a case of money laundering has been lodged against Rana Ayyub by the Enforcement Directorate in Ghaziabad. The ED has reported that donation fraud accused Rana Ayyub had used money sought for slum dwellers, COVID-19, and some work in Assam for "personal enjoyment, luxuries and pleasure".
She has been accused her of cheating the public and using Rs 2.69 crore she got in charity for creating personal assets, and also violating the foreign contribution law. "Rana Ayyub launched three fundraiser charity campaigns on the 'Ketto' platform, starting from April 2020 and collected funds totalling ₹2,69,44,680," the ED had said in a statement.


Solicitor General Tushar Mehta, representing the Enforcement Directorate (ED), opposed a writ petition filed by Ayyub before a bench of Justices V Ramasubramanian and J B Pardiwala.