Hey there, fellow binge-watchers! I'm back and so is the weekend and what better way to unwind and relax than by indulging in a binge-watching session? So let's start shall we, whether you're in the mood for thrilling drama, hilarious comedy, mind-bending science fiction, or heartwarming romance, there's a plethora of options waiting for you.
So, what's on your weekend binge-watch list?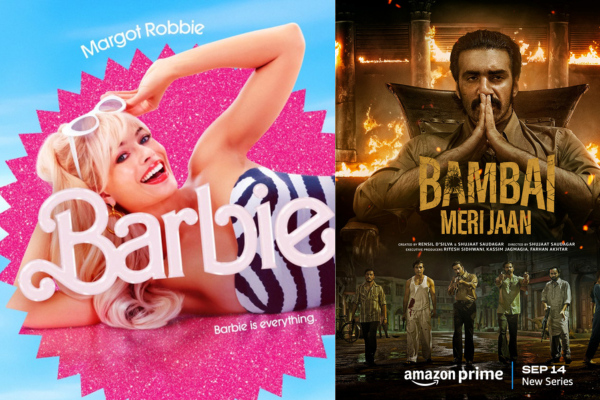 1. Bambai Meri Jaan
Set in the post-independence Bombay, Bambai Meri Jaan takes us back to the 1960s. Having as its focal point the relationship between a father police officer who is constrained by duty and his criminal son, the film introduces a world of gang wars, firearms, and deceit.
Where to Watch? Amazon Prime Video
Genre- Action, Crime
2. Kaala

Kaala is the story of an agent of the Intelligence Bureau who solves a crime involving powerful criminals seeking vengeance. a police pursuit of a criminal.
Where to Watch? Disney+ Hotstar
Genre- action drama
3. Love at First Sight
Love at First Sight is an adaption of the best-selling novel by Jennifer E. Smith, Love at First Sight. From strangers to lovers on their flight from New York to London, Hadley and Oliver start to develop feelings for one another. Even if it seems unlikely that they will ever cross paths again, love—and London—might have a way of beating the odds.
Where to Watch? Netflix
Genre- Drama , Romance
4. Barbie

A crisis strikes Barbie, making her doubt the reality of both her existence and the world.
The highly anticipated gem of the year, the childhood of many people coming to life, Barbie has made its OTT presence on Amazon Prime video. Starring Margot Robbie and Ryan Gosling in the iconic roles of Mattel's Barbie and Ken.
Where to Watch? -Amazon Prime Video- (Rent), Apple Tv
Genre- Adventure,Comedy,Fantasy
5. Virgin River Season 5
The fifth season of Virgin River features shocking breakups, unexpected new romances, a difficult court case, a tearful departure, and an impending wildfire that could endanger the community.
Where to Watch?- Netflix
Genre - Drama, Romance
So this is your binge watch list for this weekend. Hope you like it. If this is not something you find exciting, then theres always sports and books. We are now at the final stage of the Asia Cup of Cricket, India goes head to head with the defending champions Sri Lanka to win the Asia Cup of 2023. If you have seen the last match, then youre in for a treat.
So, grab your favorite snacks, settle into your comfy spot, and get ready for a weekend of cinematic adventures. Happy binge-watching!