New Delhi, Sept 18: Prime Minister Narendra Modi in his opening speech during the special session of Parliament on Monday recalled the words of former PM Atal Bihari Vajpayee that governments will come and go, parties will form and collapse but the country should remain. He also highlighted former PM Jawaharlal Nehru's famous speech titled 'Tryst with Destiny' delivered to the Constituent Assembly in 1947.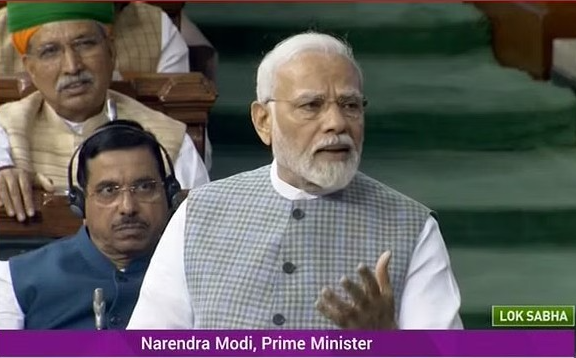 "The echoes of Pandit Nehru's "At the stroke of the midnight..." in this House will keep inspiring us. In this House itself, Atal ji had said, "Sarkarein aayegi-jaayegi, partiyan banegi-bigdegi, lekin ye desh rehna chahiye. This echoes even to this day," PM Modi said in his speech.
The Special Session of Parliament began on Monday and will continue till Friday.
Referring from the times of Pandit Nehru and Lal Bahadur Shastri to Atal Bihari Vajpayee and Manmohan Singh, the Prime Minister said that they have given new direction to the nation under their leadership and today is an occasion to highlight their achievements.
He also touched upon Sardar Vallabhbhai Patel, Ram Manohar Lohia, Chandra Shekhar, Lal Krishna Advani and others who have enriched the discussions in the House and emboldened the voice of the common citizens.
PM Modi also highlighted the address by various foreign leaders in the House which brings to the fore their respect for India. He also recalled moments of pain when the nation lost three Prime Ministers while still in office- Nehru, Shastri and Indira.
The Prime Minister also recalled the dexterous handling of the house by the speakers despite many challenges. He said they created reference points in their decisions. He remembered that 17 Speakers including 2 women from Mavlankar to Sumitra Mahajan to Om Birla everyone contributed in their way, taking everyone along.
"Several historic decisions and solutions to issues pending for several decades were made in this House. The House will always say proudly that (abrogation of) Article 370 became possible due to it. GST was also passed here. One Rank One Pension was passed by this House. 10 per cent reservation for the Economically Weaker Section was successfully allowed in the country for the first time without any dispute," PM Modi said in his speech.
The Prime Minister also acknowledged the contribution of the staff of the Parliament.
"Many MPs attended the session despite health issues. During the COVID-19 crisis, our MPs attended the proceedings of both of the Houses and performed their duties," he said.
The Prime Minister further said, "With the feeling that India's growth journey should not be impacted, all the members considered this House as an important part of their duty...After independence, many critics thought about whether India would remain united or not but we proved all of them wrong... People's trust in the Parliament remains intact."