New Delhi, November 20: A day after the big victory of security forces who neutralised 4 terrorists belonging to Pakistan-based terrorist organisation Jaish-e-Mohammed, Prime Minister Narendra Modi praised the security forces for their displaying utmost bravery and professionalism.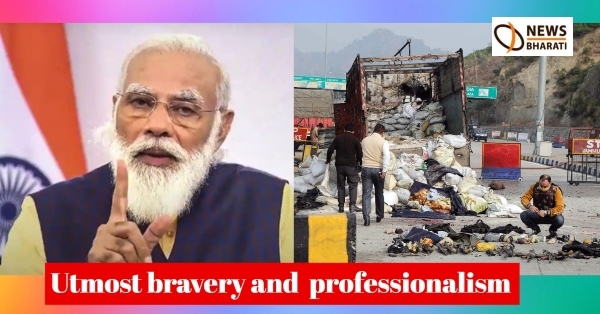 "Neutralising of 4 terrorists belonging to Pakistan-based terrorist organisation Jaish-e-Mohammed and the presence of large cache of weapons and explosives with them indicates that their efforts to wreak major havoc and destruction have once again been thwarted," PM Modi tweeted.
Appresiating their alertness he said "Our security forces have once again displayed utmost bravery and professionalism. Thanks to their alertness, they have defeated a nefarious plot to target grassroots level democratic exercises in Jammu and Kashmir."
The encounter broke out at Ban Toll Plaza Jammu with Police, CRPF, and Army and it lasted for three hours in which four terrorists were eliminated. According to the information given by IG, they have entered Indian territory on Wednesday night and were traveling in a truck on the Jammu-Srinagar National Highway, which was intercepted by the police at a toll plaza near Nagrota. These
terrorists
used old modus operandi and had recently infiltrated the Indian side and they are likely to be from the United Nations-designated terror group Jaish-e-Mohammed (JeM).
After they were intercepted the heavily armed terrorists threw grenades at the police party. During the gun battle, the truck caught fire. However, the driver of the truck managed to escape.
The police also recovered huge ammunition, and explosive material, including 11 AK 47 rifles, 29 hand grenades, some pistols, RDF guns, and other explosives. Apart from its medicines, explosive material, a bundle of wires, electronic circuits, and bags in huge quantities were also recovered from them.
PM Modi also held a high-level review meeting with Home Minister Amit Shah, National Security Advisor (NSA) Ajit Doval , Foreign Secretary, and the country's top intelligence establishment.