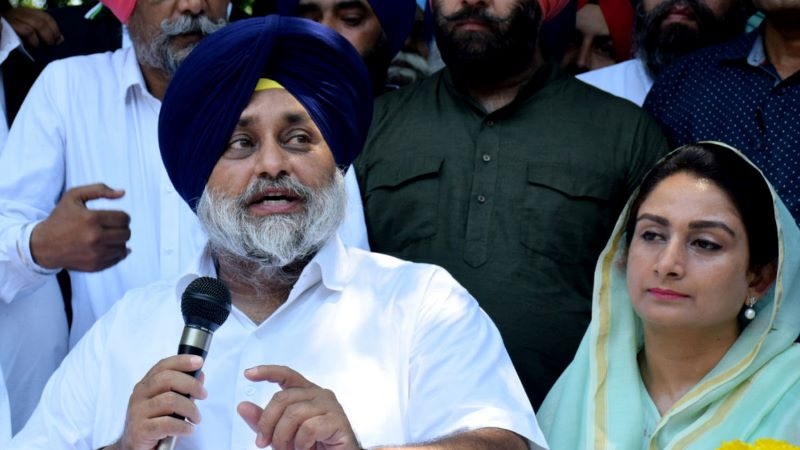 Sukhbir Singh Badal and Harsimrat Kaur Badal, the only Akali Dal minister, who resigned from the Modi cabinet on the farm bill issue
After several decades, Akali Dal has parted ways with BJP. It is a natural alliance that is built on the innate unity of Hindus and Sikhs, and the best anti-dote to separatist mischief. It has done well only with BJP, except in 1985.
Having lost power repeatedly due to mechanizations of Congress since 1967 with a strong and manipulative leader like Indira Gandhi, Akali Dal had a brainstorming session in Anandpur Sahib in October 1973 to come up with a resolution that said, "Authority of the Centre should be confined only to the defence of the country, foreign relations, communications, railways, and currency. All the residuary subjects should be under the jurisdiction of Punjab which should have the right to frame its own constitution for these subjects."
The resolutions also said, "The political aims of the Panth are definitely ingrained in the orders of the 10th Guru in the pages of Sikh history and from the perspective of the Khalsa Panth, the purpose of which is the pre-eminence of the Khalsa. To give this "birthright" of the Khalsa a practical shape, the creation of the necessary environment, and achievement of a political constitution are necessary steps. To achieve this end the Dal will use all possible means."
Thus, this resolution is the ever-present weapon in the name of religious identity politics to be used at will. The Dharam Yudh morchas taken out by Akalis during those troubled times had stoked the flames in Punjab. It was a precursor to the Khalistan related terror phase.
After the Khalistan movement ended, Akalis came back to the fundamental idea that Sikhs and Hindus are based on a strong relationship like that between nails and skin, and they need to work together to avoid Khalistan like situation. This was an excellent and wise move. Akalis and RSS had also worked together during the partition to protect Hindus and Sikhs. In fact, Tara Singh wrote the preface of a book (now republished by Suruchi Prakashan, Delhi) "Now it Can be Told" by A N Bali in 1949 that presented the true account of the resistance against Muslim goons in West Punjab.
Mastuanaa Sahib Gurudwara managing committee in Sangrur had visited the RSS camp to invite Guruji to the Gurudwara in August 1947. Chief of the Gurudwara said, "It is our immense fortune that we have a great soul amongst us today who has tied the sacred thread of protection for defending dharma. He is raising a strong force with the power of his meditation that will surely defend dharma." Guruji was offered 'Saropaa' after his short speech.
But Nehru, jealous of the rising popularity of the Sangh and Akalis, gave a call to crush them. 'The Tribune', Delhi wrote a strident editorial on November 26, (1947) "Pandit Nehru has instructed East Punjab government to ban R.S.S. and Akali Dal and destroy them. This news is so dreadful that it should not be true at all. And if it is true, then it can only be termed as a misfortune of this country. […] Because it is necessary for us to remind Pandit Nehru that if these nationalist organizations had not faced the cruel and inhuman Pakistanis with their bravery then thousands of Hindu and Sikh sisters would have been raped, thousands of Sikh and Hindu children would have been butchered. […] we wish to say this with full force at our command that Sangh and Akali Dal have made a place for themselves deep in the hearts of the people of this bordering state. Populace there looks at them as the sentinels of their state. […] It is nothing but ingratitude to brand these organizations' communal or private armies. Indian government should be proud of them."
In the interest of social amity, Akali Dal and Jan Sangh/BJP have generally had alliances, except during the heydays of the Khalistan movement. Since 1967, of the 11 elections, Akali Dal has won 7 times in collaboration with the BJP/Jan Sangh/Janta Party. It won on its own in 1985 after Rajiv Gandhi-Longowal Accord, against the backdrop of the terrorism in the state. Clearly, this alliance believed in the relation between Hindu-Sikhs as close as that between the nails and the skin.
However, the partnership was not that of equals, I might add. Even in earlier alliances when Jan Sangh and later BJP had strong leaders, BJP never got its due in governance. But it played on sagaciously for the larger cause of unity of the society. BJP could never take care of their constituents and voters due to clever politics played by Senior Badal who was the dominating father figure of the alliance all through. The supporters would always grumble about the inability of BJP leaders to listen to the woes of citizens in the finance or education sector etc. BJP leaders and supporters were treated with almost patronizing or insulting attitude. The last two elections were very tough balancing acts by BJP as its voters were unhappy with Akali Dal, as they didn't get their due after the elections. It is said that late Arun Jaitley was tricked into contesting from Amritsar to keep an emerging strong Sikh BJP leader, Navjot Singh Sidhu at bay; and then left in the lurch. It was an embarrassing loss for BJP but none complained for the sake of the alliance.
Prakash Singh Badal and other Akali Dal leaders addressing a rally. (File Photo)
At this juncture, it is clear that Captain Amrinder Singh's attitude to national and state issues has endeared him to the people of Punjab. Punjab citizens are clear that the good Captain doesn't put in much hard work in governance due to his age, but his no-nonsense attitude to NRI Khalistanis, Pakistan, and national integration is appreciated. Akalis think that if they keep quiet, Congress may steal a march over them. So, they took the easier way out by abandoning BJP on very progressive Farmer's bills. No political party has had the maturity to understand the bill and explain it to farmers. They played on the insecurity of the farmers built over years of inaction by the very same people in Punjab and India.
It is common knowledge that Akali leadership has its fingers in nearly every business, especially run by the state government. Road transport privatization has benefited the top Akali leaders and their families. I request any investigative journalist to go and find out who owns maximum buses and trolleys. Mandis in Punjab, like APMCs in Maharashtra, are controlled and exploited by these politicians and their middlemen. This is the reason for the opposition to the Agriculture bills despite assurance on MSP. Akalis and Congress are well aware that after a few hiccups, Pepsi is doing roaring business with farmers in Punjab and they are happy. So, with better protection in the new bills, why are they opposing contract farming?
Akali Dal seems to have overlooked the fact that it can't get a majority without the support of BJP. BJP knows that is has been hurt as an associate due to the unpopular Akali Dal. Both kept the alliance alive in the interest of the state. Now, if Akalis decide to part way for immediate gains, they will suffer more than BJP. BJP vote bank won't transfer to Akali Dal if there is no alliance. The ultimate beneficiary will be Congress.
What will Akalis do now? Will they revert back to Anandpur Sahib resolution to stoke passions? But I doubt if people will be swayed. Punjabis have seen the worst days in the 1980-90s. They don't want a repeat. So, the Akali Dal may not just lose votes but also the battle of perception. BJP is a cadre-based party, it can survive and return better prepared for the next electoral battle. Akalis have been reduced to a business family-based party, any miscalculation can lead to dangerous consequences for Sukhbir Badal and the state. I hope Akali leadership has thought through the repercussions of their actions.