It was felt that the philosophy of Swamiji and the ideals for which he lived and worked could be a great source of inspiration for the Indian Youth.
Every year since 1985, Bharat observes 12th January as the birth anniversary of Swami Vivekananda as National Youth Day. He grew up as the symbol of youth power, who has spread the significance of Indian culture overseas. Every person who read him followed him or known him has regarded him as a source of inspiration. His teachings fostered new enthusiasm for progress among the youth, so much so that the whole country celebrates his birth anniversary as 'National Youth Day'.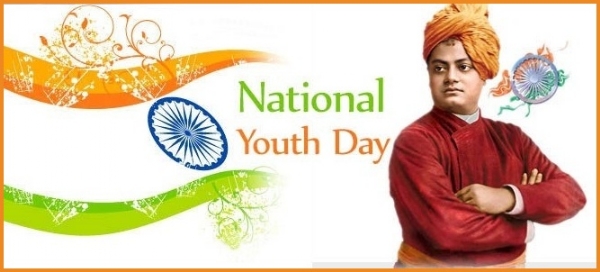 India, being one of the youngest nations in the world, has witnessed many youngsters making India proud across the globe. Besides, the youth are indeed the most energetic and creative section of the population in any country. However, in this competitive world, the youth sometimes gets distracted due to various elements of society that result in losing their focus or goal. Having said that, Swami Ji's teachings, which can be implied today, too, are simple yet powerful. He conveyed his ideas directly to the people, especially to the youth. This led to breaking the shackles of caste and creed and spoke of a language of universal brotherhood.
What he said captures the great importance of his ideas and ideals among the youth in our country today. He personified the eternal energy of the youth and their restless quest for truth. It is entirely fitting that 12th January, the birth anniversary of Swami Vivekananda, is observed as National Youth Day to rekindle the eternal message of this great patriot and son of India. With an aim to induct motivation into the younger generation, here are some of the teachings/ quotes that are simple yet powerful.
1. Whatever you think, that you will be. If you think yourselves weak, weak you will be; if you think yourselves strong, strong you will be.
2. See for the highest, aim at that highest, and you shall reach the highest.
3. Education is the manifestation of perfection already in man.
4. We want that education by which character is formed, the strength of mind is increased, the intellect is expanded, and by which one can stand on one's own feet.
5. So long as the millions live in hunger and ignorance, I hold every man a traitor who, having been educated at their expense, pays not the least heed to them.
6. If you have faith in all the three hundred and thirty millions of your mythological gods, and still have no faith in yourselves, there is no salvation for you. Have faith in yourselves, and stand up on that faith and be strong; that is what we need.
7. Strength, strength it is that we want so much in this life, for what we call sin and sorrow have all one cause, and that is our weakness. With weakness comes ignorance, and with ignorance comes misery.
8. Teach yourselves, teach everyone his real nature, call upon the sleeping soul and see how it awakes. Power will come, glory will come, goodness will come, purity will come, and everything that is excellent will come when this sleeping soul is roused to self-conscious activity.
9. They alone live who live for others, the rest are more dead than alive.
10. This is the gist of all worship. to be pure and to do good to others.
Apart from these inspiring quotes, the government has initiated to take on the mission of building a united, strong, and modern India to fulfill the vision of great thinkers like Vivekananda. All the policies like 'Digital India', 'Skill India', 'Make in India', 'Swachh Bharat Mission', help to implement the teachings that leaders like Swami Ji have preached. And, all these initiatives of the government require active involvement and support of youth as they are the major stakeholders of the future of this country.
And as Swami Vivekananda once emphasized, "Arise! Awake! And stop not till the goal is reached", let us all unite and work for the country with purity, patience, and perseverance as the Swami felt long ago that these three are essentials to success.