Recently, BJP MP filed a case against Mira Nair's web series 'A Suitable Boy' for allegedly hurting religious sentiments and for glorifying 'Love Jihad' through the web series. The series showcased a plot where a Muslim man, named in the novel Kabir Durrani (played by Danesh Razvi) hides his identity to fool a Hindu girl named Lata Mehta (Tanya Maniktala). It was not only about Love Jihad but also a scene where the female protagonist Lata kisses the young Muslim man at a Hindu temple to defame the Hindu, to promote their so-called propaganda.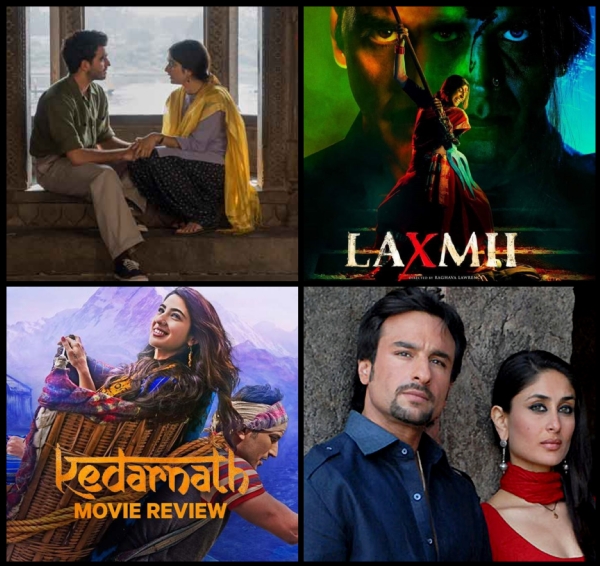 If they didn't want to hurt any religious sentiment then they should shot that scene in Masjid, what is the reason behind choosing the temple for the shot. They could have filmed this scene in Masjid instead of the temple but they chose the temple intentionally.
This type of filmmaker use films to promote their leftists agenda as they know that films have the power to manipulate the mind of the audience more than any media or type of communication.
Earlier, movies were considered as the tool of pure entertainment but it seems that they are being used to propagate their agenda and certain ideological discourse. It has become a medium that can easily influence people and can leave a mark in people's minds. With no fear, they just silently propagate their agenda like nothing is happening.
Having said that, it is surely not the first time. There are so many shows on these platforms which push through social media that display their utter disdain towards Hinduism and promoting love Jihad.
Kurbban
When we are talking about
Love Jihad
, how can we forget Rensil D'Silva's Kurbaan (2009). The officially first movie which promotes Love Jihad. The film had created a lot of controversy in 2009 and was also called 2009's super flop movie. In the film, Kareena Kapoor played a Hindu girl who falls in love with a Muslim (Saif Ali Khan) who later turns out to be a terrorist. They did not stop here, but they also justified and glorified the terrorists even more unapologetically, with love jihad being a specific one.
Ironically, just three years after release, actress Kareena Kapoor got married to
Saif Ali Khan
who was already married to the Hindu girl name Amruta Singh who later converted to Islam.
Kedarnath
Ironically this was Saif Ali Khan's daughter's movie. Kedarnath was released in 2018 and it was based on a Kedarnath disaster. However, the movie was in controversy for "misrepresents facts and hurting Hindu sentiments and for promoting love jihad". The filmmakers have shown great disrespect to the followers of the religion. If the movie is based on true events it should show the real story, not the reel story.
Instead of showing 2013's flood, the film depicted a Love-jihad love story where the Hindu Brahmin girl whose family owns a lodge and shops near the historic Kedarnath Temple falls in love with a Muslim boy who is a 'pithoo' (porter) working in the same vicinity. The entire spotlight has been given to the love angle, leaving behind the tragic Uttarakhand disaster which is very insensitive for the victims who faced the wrath. If the movie is based on the true story of 2013's flood then, they should show the real tragedy instead of showing a love story of Hindu Muslims in the movie. That was not necessary at all. It seems that they have used this event "only" as a backdrop for promoting their love jihad propaganda. The plots were initially twisted to show the Hindu Muslim Love story.
Laxmii Bomb
Laxmii is a 2020 Indian Hindi-language comedy horror film written and directed by Raghava Lawrence. The movie first got in legal trouble due to the Film's title. A legal notice was also sent to the filmmakers on behalf of the Shri Rajput Karni Sena. According to the notice, the film's title was considered to be disrespectful to Goddess Laxmi, thereby hurting the Hindu community's sentiments. The notice also demanded a change in the film's title and said that the current one sends out a wrong message to society. On 29 October 2020, the film's title was
changed to Laxmii.
Further, the film became controversial by propagating their agenda of Love Jihad. In the film's Kiara Advani plays a Hindu girl named Priya who falls in love with Akshay Kumar plays a Muslim character named Asif. It, being a Hindi remake of the Tamil film 'Kanchana', was twisted by the Hindi filmmaker for running their agenda. The original version of the movie has no such plot which promotes love jihad.
The upcoming movie 'Indu Ki Jawani' is already under controversies for glorifying Love Jihad and hurting Hindu sentiments. Apart from these movies, there are many types of movie which likely promotes Love Jihad and defames Hindus.
The attempt to create a narrative that India is a majoritarian state that heaps atrocities on its minorities, especially Muslims, is rampant. One can find out that the Hindus are shown as rapists, murderers, extortionists, and full of all kinds of vices. They are further demonized subtly with the use of words like Kaafir, ButParast, etc. in the songs.
On the other hand, why they are always continuously targeting Hindus? Why the movies always portray Muslim as a victim and Hindu as uncivilized or regressive? However, wherein reality is precisely opposite to film fiction stories.
In February 2018, Ankit Saxena was murdered brutally by his Muslim girlfriend's family because they didn't approve of their interfaith relationship. The girl's family was vehemently against her (identified as Shehzadi) being in love with a Hindu boy and they had sought revenge from Ankit.
Even in Nikita Tomar's case, the main accused of Tauseef Ahmed was highly influenced and impressed by the recently released second season of Amazon's popular web-series, 'Mirzapur'. This series displays how the character Munna Tripathi (Divyendu Sharma) is shown to love Sweety Gupta (Shriya Pilgaonkar). However, Sweety ends up marrying Guddu Pandit (Ali Fazal) instead and is eventually gunned down by Munna arguably out of jealousy and disgust.
This is just one of many incidents that where an accused has confessed to being inspired by a film to commit a crime. Many murderers have confessed to modeling their crimes on serial killers from films or television. The media is the only platform in the world that allows freedom of speech to one and all. But it doesn't mean that you can misuse this platform to project left wings propaganda. Before showing such content on mainstream media they should think twice about the impact of the content.