Holi on the scenes and what 'seculars' see is unsightly heaps of darkish manure all over the place, pools of muddy water threatening to wet walking shoes, or worse. And amid this disruption of a 'neatly managed' COVID-19 disaster the message of Holi is in the air today. Holi, Dulhandi, Rangpanchami, Basant Utsav, Shimgo, Phagu Purnima or Kaman Pandigi – call it by any name, the message is one of hope-
out of little disruption comes changed order and ugliness for that matter presages beauty.
There is that one story our ancients told. Hrinyakashipu was a mighty demon king. He terrorised the whole world into abject submission. There was no one mightier than him, he asserted. But his own son, Prehlad, paid obeisance to Lord Vishnu. The tyrant was in a fix. He could not openly denounce the little prince for showing thumbs-down to his grandiosity, nor could he allow the boy to carry on with the practice of worshipping his enemy. His sister, Holika, offered him a way out. An alchemist of sorts, who thought she was proof against any ill effects of fire, she entered a raging fire carrying the 'disobedient' prince in her armswith the intent to burn him to ashes.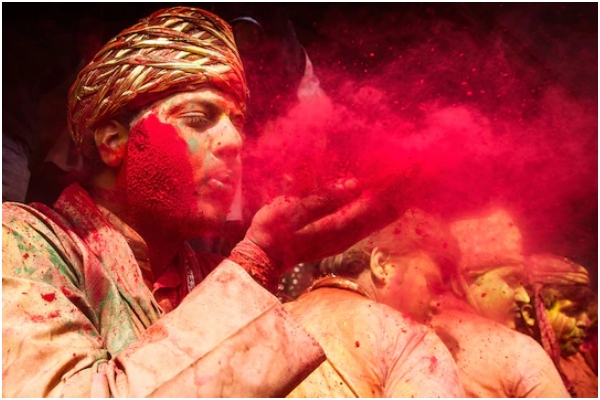 The telling point of this narration is well known. Those who don't follow Him, the said 'disobedient' prince, meet the fate of Holika. Her supercillious brother, Hrinyakashipu, too is eventually disembowelled lovingly by the man-lion, Lord Narasimha. A myth is not just a myth to say but is a moral story, you might say. We should dig deeper into it and find a greater truth at the bottom. Both Hrinyakashipu and his sister Holika were consumed by their hubris – he by what he thought was improbable and she by fire which she considered would be pliable to her wishes.
The more significant of the aspects of Holi is, of course, splattering colour on our loved ones. Again, only the secular class of society call it a bargain for rashes and red faced weeks ignoring the fun, love, the ultimate joy. But we can ignore, right? Holi should definitely be only a solemn occasion to remember the fate of the Holika. People wonder, where does colour come in? But why not? Colour gives vibrancy to life and makes it worth living. Doesn't it? The story goes that young Krishna felt strongly about his dark skin since his love Radha, was very fair. So, in a fit of the sitch, he rubbed colour on her face probably to let society forget the bias in love.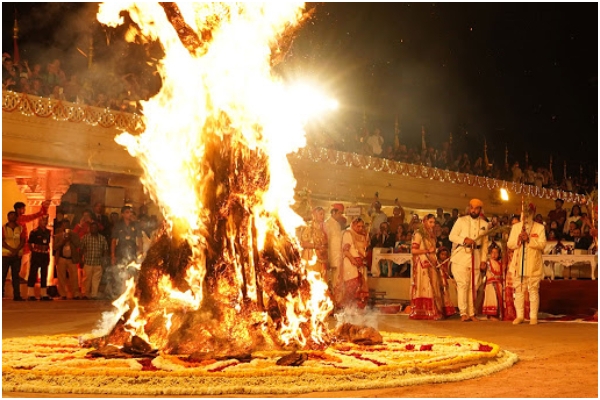 The successive generations have continued to take the metaphor of lovers' compatibility in decency. The gulal and abeer of the gentler times have become almost a legend by now. Pichkaris and balloons filled with tap water are also on the way out, unless you happen to be in the company of enfants terribles. The decent thing to do now is to take a pouch of dry colour in your hands and go out to the nearest gathering of your friends. Rub a pinch of colour on your friends' faces, one by one, and be rubbed by them, in turn. Share gujia, kachori and other delicacies with your dear ones. Then have a nice evening listening to classical ragas and go to a blissful sleep.
Am I missing something here? Yup! The mention of beats of dhol and the day-long boom of music systems; and of men and women, heady with thandayi and bhang pakoras. And the Latth-maar Holi of Barsana when women playfully beat their men folk with thick sticks, only to remind them respect women, not tease them. Most men shun the happy event. But literally blessed are those who can't. Traditions should not be challenged anyway!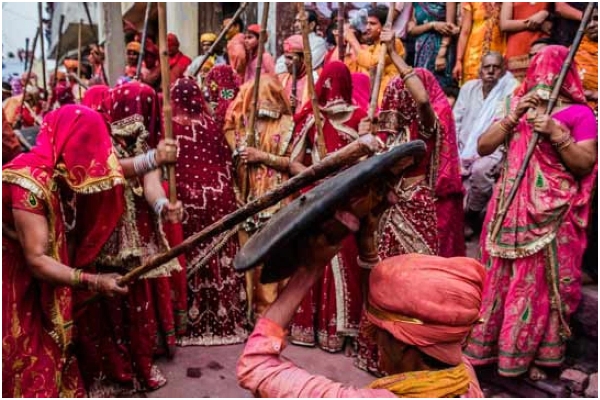 In the Hindu calendar Holi is the day of letting yourself go. In that carnival spirit you indulge your wildest fancies without fear of mounting calories and a nagging hangover; drenching your relatives with bucketfuls of coloured water; crashing into your friend's place and pouring ink over the best shirt and more. Do whatever you will, you can ceiling limits and don't forget to say, 'Holi hai!'
.
.