Namaskar, the new series 'INSIGHT' is an attempt to present the central thought of a thought-provoking book. "Missionaries In India Continuities, Changes, Dilemmas", a book by Shri Arun Shourie compels readers to contemplate various points put forth.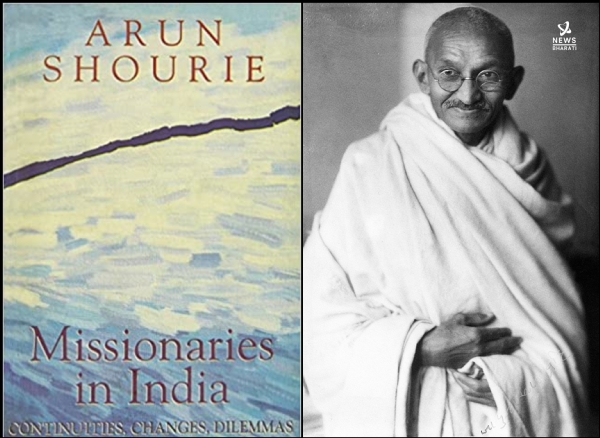 Gandhi Ji's advice on this debated and disturbing issue of conversion was
1) Give up the conversation totally. He remarked if Missionaries continue this in the wrong way, they will have to bear with the people like him who point out that the way is wrong. If he had the power to legislate would certainly stop all. He described it as the deadliest poison which weakened the 'fountain of truth'.
Also Read: INSIGHT IV: Reality of Christian missionaries through the lens of Arun Shourie's book
2)
Missionaries should not target the poor and illiterate who are unable to assess the matter. Dr. John Matt ( who had been at the forefront of missionary activities in the decade 1930) asked," But must we not serve them?" The reply was," of course, you will, but not making conversion the price of your service." He would strongly object to exploiting and upsetting them. " "I strongly resent." He stated. These simple people cannot reason with them. Missionaries use all types of temptations and in a way demean Christianity.
3)
He clearly stated that non-Indian missionaries should return to their own countries and help their people. He asked an American missionary, "is there nothing to do there?" The answer was," even in America there is enough work for educational work". Gandhi Ji said, " that is a fatal confession."
4)
Gandhi Ji expected missionaries to compliment the faith of people and not to erode it. He stated," do not de- nationalize them".
5)
He wanted missionaries to live the life of piety, and persuade people by the example of their life. Nothing should to be for sale.
The author is of the opinion that conversions worsen the situation. If it is irresistible then missionaries ought to abide by the methods of Jesus or Gandhi Ji. And the state should have the authority to assure that force is not used to attract or compel unobservant simple people.