This article is a summary of important events that have taken place in last one week affecting, India's national security.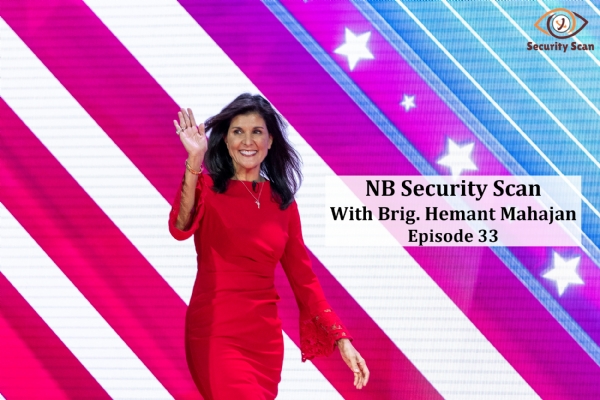 World Countering Chinese Multi Domain War
What is China's game plan in Ukraine?
Chinese state-controlled firms have sold non-lethal drones and other equipment to both Russia and Ukraine.
China's Influence Efforts Are Expanding—But They Also Often Are Failing,
How are influence operations carried out by china against Taiwan?
China has been engaged in a range of influence operations against Taiwan for many years, including both covert and overt efforts. Some of the key methods used by China to exert influence over Taiwan include:
1. Propaganda: China uses state-controlled media outlets to spread its message to the Taiwanese people, often portraying itself as a peaceful and friendly neighbor while depicting Taiwan as a troublemaker that needs to be brought back into the fold of China.
2. Economic coercion: China uses its economic power to coerce Taiwan into complying with its demands. For example, China has threatened to cut off economic ties with Taiwan if it does not agree to reunification with China.
3. Cyber attacks: China has been known to launch cyber attacks against Taiwan, including hacking into government networks and stealing sensitive information.
4. Diplomatic pressure: China uses its diplomatic influence to pressure other countries to isolate Taiwan diplomatically. For example, China has pressured countries to switch their recognition from Taiwan to China, cutting off Taiwan's diplomatic ties with those countries.
5. Military intimidation: China has also engaged in military intimidation of Taiwan, including sending military planes and ships into Taiwanese airspace and waters.
Overall, China's influence operations against Taiwan are aimed at undermining Taiwan's sovereignty and promoting reunification with China.
China's influence efforts have been expanding in recent years, particularly in the areas of media and technology, as the country seeks to increase its global presence and influence. However, despite these efforts, many of China's attempts to shape opinion and gain influence have been met with failure.
One reason for this is that China's efforts are often seen as heavy-handed and lacking in transparency, which can create mistrust among the target audience. For example, China's attempts to influence public opinion through social media platforms have been met with skepticism and pushback, as many users are aware of the government's strict control over online content and are wary of its influence.
Another factor is that China's cultural and political values often clash with those of democratic world. Despite these challenges, China's influence efforts are likely to become more sophisticated in the future, as the country invests heavily in technology and seeks to expand its soft power capabilities. It is therefore crucial for Indian policymakers and the public to remain vigilant and aware of China's influence efforts, and to work to counter them.
Despite Beijing's Charm Offensive, the EU-China Investment Agreement Is Not Coming Back
China's destruction of Uyghur lands is far more systematic
The international community can ignore it or simply virtue signal with meaningless rhetoric but take no action because China's draconian controls keep Uyghur suffering out of the daily news cycle.
It is for this reason that Gulchehra Hoja's new book, A Stone is Most Precious Where it Belongs, is so valuable. Hoja is an accomplished journalist. She left Xinjiang television after refusing to promote the Chinese Communist Party propaganda and found a home at the U.S.-funded Radio Free Asia, the only Uyghur broadcaster that allows an independent line. That move earned her a red notice and a ban on returning to China.
It is for this reason that Chinese President Xi Jinping hates Hoja's work, because it is not something that Chinese Communist Party-sponsored junkets for foreign reporters and religious organizations can refute.
Countering Chinese Economic and Debt Warfare
China and private lenders are blocking a solution to the global debt crisis
The G20 must step in.The international community must apply pressure so that China and private-sector lenders join in facilitating a collective haircut that includes all lenders, all poor Asian African countries.
Is Ukraine War's Prelude to Chinese Attack on Taiwan?
The longer Ukraine war goes on, the sooner will follow the Chinese attack on Taiwan. China believes it can be the real winner of the war. Its rivals and enemies are weakened, the longer the war continues. The West is depleting its arsenals. It is tiring of the cost. Rival Russia is bleeding, selling Beijing cheap oil and begging for its weapons.
Neither Europe nor America, China believes, will want to repeat another proxy war—say, one over Taiwan—against a nuclear power with far more leverage over the West and far greater wherewithal on the battlefield.
Is the Chinese assessment correct? Will longer Ukraine war help them to attack Taiwan? Will attack on Taiwan turn into another long drawn war like Ukraine?
China's Spying Efforts and U.S. Countermeasures
There have been multiple reports of China's spying efforts towards the U.S. Some of the common methods used by China include cyber espionage, hacking, and the use of human intelligence (HUMINT) to steal sensitive information and intellectual property.
To counter China's spying efforts, the U.S. has implemented various measures, including strengthening cyber security protocols and regulations, increasing the use of encryption technologies, and investing in intelligence gathering to detect and prevent foreign espionage. The U.S. government has also imposed economic sanctions and other penalties on Chinese entities and individuals suspected of engaging in cyber espionage.
In addition, the U.S. has been working to improve its relationships with allies and partners to strengthen international cooperation on cyber security issues and counter China's espionage efforts. The U.S. government has also been encouraging U.S. companies to adopt better security practices and to report suspected cyber intrusions to law enforcement agencies.
Can India take similar counter measures to counter spying by the Chinese?
China Is Practicing How to Severe Taiwan's Internet?
As the United States was watching the skies in the aftermath of the spy balloon incident, China was practicing war at sea. In early February, maritime vessels disabled the two undersea cables connecting Taiwan's Matsu Islands, a tiny archipelago just 10 nautical miles off China's coast, to the internet. Now residents of the islands face highly reduced internet connectivity until the cables are repaired. The activity looks like targeted harassment by Beijing—or an exercise in preparation for cutting off the whole of Taiwan.
India should carry out a security review of all underground sea cables that it has laid and how should we protected during the times of gray zone warfare.
Can we give a befitting reply to China if it cuts the Indian undersea cable?
Technology wars: Chinese chip firms stockpile equipment ahead of US-Japan-Netherlands agreement on tightening export controls
Some of China's largest chip makers have scrambled to buy equipment and materials this year in anticipation of an agreement expected to further curb access. Japanese firms are continuing to fulfil orders while they await clarity on new rules expected in April.
China aims to launch nearly 13,000 satellites to 'suppress' Elon Musk's Starlink
The satellite constellation is likely to be launched quickly to prevent SpaceX from hogging 'low-orbit resources', according to PLA space scientists.The project, code-named 'GW', would provide internet services and could be used to spy on rival networks and carry out anti-Starlink missions.
Internal Security
Delhi HC dismisses plea against Agnipath scheme, says it was introduced in national interest
The Delhi High Court on Monday dismissed batch of petitions challenging the Centre's Agnipath scheme for recruitment in armed forces. A bench of Chief Justice Satish Chandra Sharma and Justice Subramonium Prasad had on December 15 last year.
Indian Navy's aircraft carrier INS Vikramaditya carrying out sea trials post-refit
Islamist militants have Pakistan's police in their crosshairs
The threat the insurgency poses to nuclear-armed Pakistan was illustrated last month when the bombing of a mosque in Peshawar killed more than 80 police personnel. A faction of the TTP, Jamat-ul-Ahrar, claimed responsibility.
Wildlife Board approves IAF mountain radar in Ladakh
Likely to come up soon, is an ambitious and long-debated plan to set up a High-Altitude Air to Ground Firing range in Ladakh to ensure battle readiness in hostile high reaches of the Sino-India border.
Defence establishments being mapped under PM Gati Shakti
In October last year, Prime Minister Narendra Modi launched the Gati Shakti - National Master Plan aimed at developing integrated infrastructure to reduce logistics costs. All logistics and connectivity infrastructure projects, entailing investment of over Rs 500 crore, are routed through the Network Planning Group constituted under the PM Gati Shakti initiative. This will also reduce costs of transportation of armed forces.
Army seeks to buy 310 indigenous Advanced Towed Artillery Gun System
Designed by DRDO to replace the Bofors towed guns that are the current mainstay 155 mm artillery system in service, ATAGS has been extensively tested by the army in different terrain, from desert areas to high altitude ranges in Sikkim, and have been declared fit for induction.
Killing Of Civilians in Kashmir Valley Avenged in 48 hours
The death of Kashmiri Pandit and bank guard Sanjay Sharma at the hands of terrorist gunmen in Pulwama is yet another murder in a series of attacks on the minority community in the Valley. On Tuesday, after follow-up operations that resulted in the death of an Army jawan and two militants, security forces have asserted that Sharma's attacker has now been slain. Sepoy Pawan Kumar was killed in action on Tuesday. Army said the soldier 'overpowered' a militant in Padgampora village of Pulwama district. In the fighting, the slain suffered grievous injuries and succumbed in hospital. The jawan hails from Rampur tehsil of Shimla in Himachal Pradesh. Two militants were also killed in the operation which lasted for several hours on Tuesday.
Police capitulation to radicals bodes ill for Punjab
A couple of unpardonable acts by the Punjab Police led to the storming of Ajnala police station by armed supporters of radical preacher Amritpal Singh on Thursday. They failed to stop Amritpal's supporters, some of whom were wielding swords and guns and raising pro-Khalistan slogans, from breaking through the barricades and barging into the police station in protest against Lovepreet's arrest.
Worse, this was done leveraging the presence of the Sikh holy book, the Guru Granth Sahib, carried by protesters, which police say forced it to hold fire. In a state where emotions around sacrilege and desecration run high, this was a particularly belligerent strategy.
It is clear that the law enforcers succumbed to radicals' pressure and failed to follow the due process of law. The Ajnala incident is symptomatic of the breakdown of the law and order machinery in Punjab. It comes just a fortnight after protesters went on the rampage on the Chandigarh-Mohali border, damaging police vehicles and attacking cops.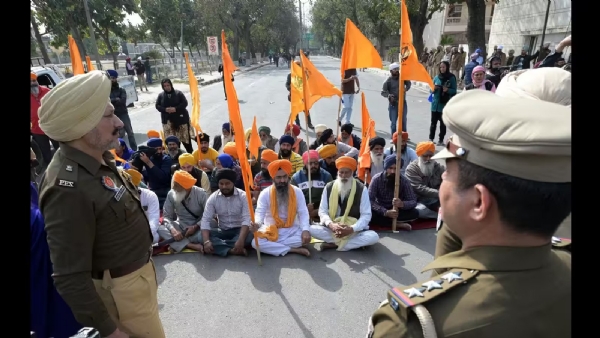 The state government is at fault for being lenient with rabble-rousers such as UAE-returned Amritpal, who is being projected as a 21st-century avatar of Jarnail Singh Bhindranwale and who is veritably a law unto himself. Some Opposition parties, in a desperate bid to stay politically relevant, have no qualms about fanning the flames.
The NIA, the Central counter-terrorism probe agency, is not taking action against Amritpal despite his secessionist rant and his threat that Union Home Minister Amit Shah will meet the same fate as that of former Prime Minister Indira Gandhi.
The state's political and religious leadership needs to take an unambiguous stand on the hardliners and affirm the supremacy of the rule of law. The bid to whip up religious secessionist sympathies is nothing but a ploy by vested interests based in India and abroad to destabilise Punjab all over again.
It's the responsibility of all stakeholders to expose the troublemakers and ensure that the state's peaceful progress and economic resurgence are not derailed. A replay of the blood-soaked era of terrorism will be catastrophic for Punjab.
India Spotted Flying Object Over Strategic Island Chain in 2022
India is now looking to change defense protocols.About a year ago, locals on a strategic Indian island chain that sits closer to Singapore than New Delhi spotted an unusual object in the sky: a giant balloon similar to the one the US downed earlier this month.
At the time, nobody really knew what it was. As hundreds of people on the Andaman and Nicobar islands ventured outside and snapped photos of the unusual flying object that lit up social media, India's defense establishment became alarmed.
Water Security
India approves $3.9 billion hydropower project near China border
India approved its largest ever hydropower project in the mountainous northeastern region bordering China as the country seeks to build renewable generation to meet rising power demand.
The government approved the estimated investment of 319 billion rupees ($3.9 billion) for the 2,880-megawatt Dibang project in Arunachal Pradesh, state-run hydropower producer NHPC Ltd. said Monday. The project is estimated to take nine years to build.
India has classified hydropower as renewable energy and sees it as key in its transition away from coal to help manage the fluctuations caused by intermittent solar and wind supplies. However, the large-scale environmental damage and dislocation of communities to construct dams has hampered those plans, with local protests delaying projects and adding to construction costs.
Increasing Indian Soft Power-Diaspora Influence and Indian Soft Power
We all know Indiaspora's success. But what can we learn from them?
The Indian diaspora, or Indiaspora, is on the ascend and its influence is likely to grow on political, economic and social spheres, globally. It is not beyond the realm of possibility that the 2024 US presidential election will be a contest between two women, both daughters of Indian immigrants: Nikki Haley, former US ambassador to the UN and ex-governor of South Carolina, who kicked off her presidential campaign last week, and Kamala Harris present vice president may be her Rival.
Hail Indian diaspora but Can Indians in India match them?
Effective Foreign Diplomacy
Green energy is way ahead for India, Germany, world
It is not an accident that green energy becomes an essential takeaway from the talks between the two top political executives of India and Germany. India is an energy-hungry nation which has set an ambitious goal of becoming carbon-neutral by 2070. It has also affixed certain targets to achieve by 2030, viz. increase renewables capacity to 500 GW from the present 157 GW which will meet 50 per cent of its energy requirements which share is currently 40 per cent, reduce cumulative emissions by one billion tonnes and reduce emissions intensity of India's gross domestic product (GDP) by 45 per cent. As for Germany, it is one of the few large economies with a commitment to green energy — Renewables supply 47 per cent of its energy today and the country wants to raise the share to 80 per cent by 2030 and to 100 per cent by 2035.
India has of late been promoting all existing and futuristic technologies to harness green power. The government recently set up a National Green Hydrogen Mission with an outlay of close to Rs 20,000 crores to promote development of technologies and their applications, facilitate demand creation, production, utilisation and export of green hydrogen. The government expects an investment of over Rs 8 lakh crores and creation of over six lakh jobs in the sector over a period of time. On its part, Germany has promised to invest lose to $3 billion in global green hydrogen economy.
Indian Economic Power
India Emerges as Global Economic Power In 2023
New infrastructure, regulatory reforms and digitization buttress its strength. India was a story of unfulfilled potential: abundant labor and entrepreneurial energy hobbled by lousy infrastructure, a meddlesome state, stifling regulation and a deep ambivalence about engagement with the broader world.
2023 could be the year India finally emerges as a global economic heavyweight. For that, thank the cumulative effect of solid economic growth, microeconomic reform and a changed geopolitical environment that has the West more eager than ever to draw India into its orbit. Just this week, nine Democratic senators and Treasury Secretary Janet Yellen traveled to India, the latter for a summit of the Group of 20 economies, which India is hosting this year. Commerce Secretary Gina Raimondo and Secretary of State Antony Blinken are close behind.
The bullish case on India always starts with demographics. Indians are much younger than China and most of the West.
The International Monetary Fund says India's annual economic growth will average 6.5% this year and next, the fastest among 30 major economies, resuming a two-decade trend of solid growth. Last year, India displaced the U.K. as the world's fifth-largest economy in current dollar terms and could tie Germany for fourth place by 2025.
Safe across borders: On Unified Payments Interface-PayNow link
India must further its cross-border digital payment linkages,UPI may be a game-changer.
Singapore is the first country with which India has launched a cross-border person-to-person (P2P) payment facility.
Indians have witnessed but possibly overlooked a proud national accomplishment. It concerns the virtual launch of a linkage in real time between the biggest public payment platform of India, the Unified Payments Interface (UPI), and PayNow of Singapore. This will allow Indians and Singaporeans to make payments to anyone in either country with the same ease that Indians are now accustomed to in their daily business lives.
Creating the UPI was a great achievement for India, both from the vantage points of policy and vision, and creating a legal and commercial framework to incorporate it as well as building the technology to support it on such a large scale, not to mention popularising it to ensure that almost all citizens can adopt it, weren't deeds of trivial importance. The volume and near-ubiquitous presence of UPI-based payment apps in India show that we have truly accepted a global paradigm in terms of electronic payments and commerce.
Indian Prime Minister Narendra Modi and Prime Minister of Singapore Lee Hsien Loong who participated in the launch stressed upon the significance of this step which will now make cross-border remittances extremely easy, quick and economical.
Potentially, it will create a new Indo-Singapore business ecosystem that would previously have been impossible.
Person-to-person (P2P) payment facility, can very well be expanded to other countries, especially the Gulf countries which have a huge Indian diaspora.
One Year of Ukraine war: Lessons for India
Drones Are Giving Ukraine a Wartime Edge
A $2,000 vehicle made in China destroys a Russian tank worth millions.
Discussion about the war in Ukraine has focused recently on whether the West will supply Kyiv with tanks and jets. But consider the humble drone. Even as Russia has used Iranian-made drones to attack Ukraine's energy infrastructure, Ukraine has repurposed cheap commercial drones for use on the battlefield.
Jury-rigged commercial drones typically carry small payloads over short distances, but they're cheap and can take out heavy enemy equipment. Stanislav Zorin, a 36-year-old drone operator for Ukraine's 80th Airborne Assault Brigade, used a Chinese-made DJI Mavic 3 drone that costs a little more than $2,000 to destroy a Russian tank worth millions.
Ukraine also has used drones to improve the accuracy of low-precision artillery. "Every shot counts. "Drones are fundamentally a platform that lets you do one of two things,". "It lets you look at stuff, and it lets you shoot stuff."
Russia Ukraine war to Chinese war against Taiwan
The Impact of the Sanctions on Russia's Economy and Lessons for the Use of Sanctions on China are quite clear.Fresh research finds that while the economic measures are harming the Russian economy, they have done less damage than many predicted—in part because of Russia's continued energy exports—and are unlikely to deliver a knockout blow to Russia
The report finds that enacting comparable sanctions and export controls on China would be far more difficult and disruptive to the global economy. The report concludes by offering 10 major lessons with implications for potential sanctions or export controls against China in a potential crisis over Taiwan.
--