Kathmandu, Mar 16: Nepal PM Pushpa Kamal Dahal's official Twitter handle @PM_Nepal was hacked in the early hours of Thursday (Mar 16). In his Twitter account, instead of Dahal's profile, the BLUR account, which is a Non-Fungible Token Marketplace for Pro Traders is seen.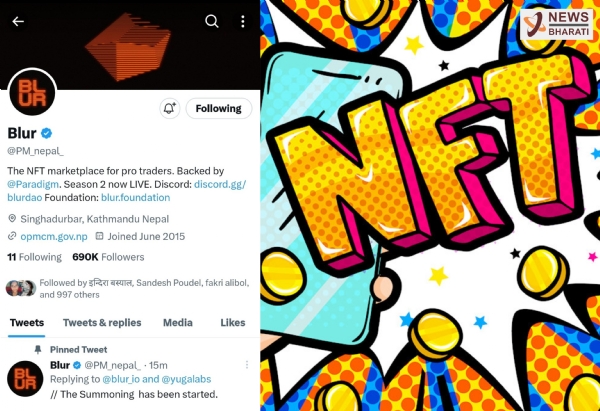 On the Twitter account, @PM_Nepal pinned a tweet regarding the NFT which read, "The Summoning has been started. Get your BAKC/SewerPass ready and get down in the pit! https://thesummoning.party." The account has 690.1K followers.
The account was restored soon after and the bio was changed to "Office of the Prime Minister and Council of Ministers, Government of Nepal." However, according to
reports
, there was no official tweet or statement on the recent hacking incident from the Prime Minister's office.
What is 'Non-Fungible Token'?
Firstly, 'Fungibility' is an economic term that refers to a commodity that can be exchanged with another individual unit of the same commodity without losing any value. For instance, a thousand-rupee bill is fungible because it holds the same value as any other thousand-rupee bill and can be interchanged without each losing its value.
Artwork, however, is non-fungible as they usually cannot be replicated exactly and cannot be exchanged with another without losing or acquiring value. For instance, Da Vinci's 'Monalisa' is non-fungible because there is only one such painting in the whole world. Digital art, on the other hand, can be fungible since anything digital can be copied and reproduced exactly as it originally was. Basically anything digital, can be involved in the NFT business. Twitter CEO Jack Dorsey minted his first-ever tweet as an NFT and sold it for $2.9 million.
The year 2021 was when NFTs became mainstream, going from a niche market with a total sales of less than $100 million in 2020 to a massive boom in sales of over $23 billion in 2021, as per
reports
. In yet another interesting fact, the World Economic Forum states that NFTs have a heavy carbon footprint, comparing the annual energy cost of the Ethereum blockchain to the nation of Ireland which is a hidden cost for many buyers. As the hype increases, the energy consumption to run the Ethereum blockchain is also on an exponential rise. Ethereum uses an energy-intensive 'proof of work' model which pays crypto miners to maintain the Ethereum blockchain.
What is the relevance of NFTs with Nepal?
With the above facts it is clear, that NFTs is a rowing business everyone wishes to jump into. However, the problem with Nepal is that Cryptocurrencies remain illegal in Nepal, according to the Nepal Rastra Bank Act and the 2019 Foreign Exchange Regulation Act. As per an article published in
Nepal LIVE Today
in Jun 2022, "Cryptos are banned in Nepal, but the republic will eventually have to come up with smart regulations to protect long-term investors, prevent fraudulent activities within the crypto ecosystem, and provide clear guidance to allow businesses to innovate in the crypto economy. The Government of Nepal should also legalize cryptos and also refrain from putting capital gains tax on income less than five million rupees."
The recent hacking of Nepal PM's Twitter seemed like an attempt to aggressively put forth the demand to legalize and regulate cryptos in the Himalayan country, with a hope of reviving the crisis struck economy of the nation.
--