Pune, Sep 25: News Bharati's latest initiative 'Bharat Talks' is back with an interesting second episode, this time with a voluble interaction with Vinay Patrale, exploring the movement and purpose of 'Do Dhage Shree Ram ke Liye'.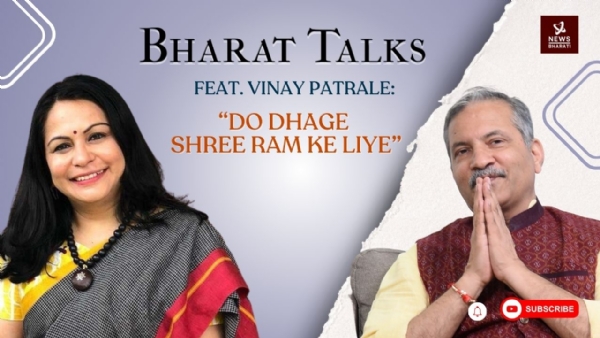 News Bharati is engaged in a new series of interviews with the title 'Bharat Talks', that will be presented as both videos and podcasts. In the second episode, celebrated Author
Shefali Vaidya
has interacted with Vinay Patrale, President, Heritage Hand Weaving Charitable Trust. The interaction throws an insight in the new chapter of Karaseva for Shree Ram Janmabhoomi, Ayodhya, that has been planned with the initiative of
'Do Dhage Shree Ram ke Liye'
.
Through the "Do Dhage Shree Ram Ke Liye" initiative, organized by Shri Ram Janmabhoomi Teerth Kshetra Trust, Ayodhya & Heritage Handweaving Revival Charitable Trust, Pune people will connect to the Shree Ram Janmabhoomi yet again. From 10th to 22nd December, thousands of people will weave on handlooms in Pune to create Vastras for Shri Ram Lalla viraajman at Ayodhya. The interaction between Shefali Vaidya and Vinay Patrale throws light on wide spectrum that is associated with the initiative of stitching 'Vastras' for Ram Lalla, through 'Do Dhage Shree Ram Ke Liye'.
In the last episode News Bharati Senior Reporter
Himali Nalawade
had interacted with
Rashmi Samant
, about her recent book 'A Hindu in Oxford', where she had shared her experiences in the UK, as an Indian, and how her life their was rushed with racist experiences driven by a typical 'Western' mindset. The author has openly shared how her life took a spin after her racist mockery as the democratically elected President of the prestigious Oxford University's Students' Council, that was followed by her resignation from the position within a brief period.